New Here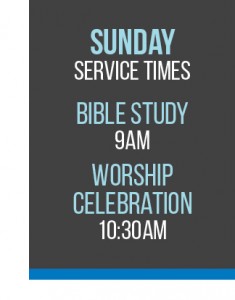 Welcome to First Baptist Church of Kenner. We'd love for you to join us on Sunday morning, and if it's your first time, here are some things you might like to know:
Bible Study. We have Bible Studies for all ages every Sunday morning at 9:00! Just come to the Welcome Center in the middle of our Education/Administration building on 14th Street, a block off of Williams Blvd. Look for someone wearing an "Ask Me" name tag, and they will gladly show you where to go and introduce you to some of our members when you get there. You'll learn a lot about the Bible in an informal atmosphere that encourages questions and discussion.
Worship. Our Worship Gathering takes place in our Worship Center, which is the big building at 1400 Williams Blvd. Park around back (the lot off of Compromise St.), and follow the crowd into our foyer. At the door, you'll be handed a bulletin with information about our church, including upcoming activities. Once inside, you will probably be greeted by someone with an "Ask Me" name tag, and you can go to the Welcome Center and pick up a folder that has some more really good information. We start at 10:30.
Our Worship Gathering is relaxed but very intentional. We like to say that the sermon begins with the first note of the first song, and it ends with the last "Amen." Everything we do is grounded in the Bible, so even our music and prayers reflect biblical themes and exalt Jesus Christ. We sing old and new songs accompanied by guitars, drums, piano, and other instruments, and we see the sermon as the central part of our worship experience.
Bibles. If you don't have a Bible, or if you have one in an old kind of English that is hard to understand, stop by our Welcome Center and ask for a Bible. We are happy to give you a brand new Bible. This is our gift to you.
Nursery. We provide childcare for babies through pre-k during our Worship Gathering, located across the street in our Education/Administration building. Find someone with an "Ask Me" name tag, and they will be glad to show you the way.
Questions. If you have any questions, please feel free to call us at 504-466-5381 or email us at church@fbckenner.org. We would love to talk with you.